---
News
Aug 23, 2016
Join the SELECTBIO Extracellular Vesicles Virtual Event made available from September 21st, and hear leading researchers talk about topics within EV biology and therapeutic potential!
Information
General information, events and/or links.
News
Aug 4, 2015
New publication from Llorente and coworkers on prostate cancer biomarkers in urinary exosomes:
---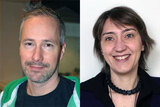 First author Anders Øverby (left) and Alicia Llorente (right).
Alicia Llorente and coworkers from the Department of Molecular Cell Biology at the Institute for Cancer Research recently published in Oncotarget detailed mass spectrometry analyses of exosomes purified from urine of 16 prostate cancer patients and 15 healthy volunteers that revealed upregulation of 221 proteins in the patient samples. At 100% specificity, 17 of these proteins displayed individual sensitivities between 60 and 94%. Combination of two of the upregulated proteins (TM256 and LAMTOR1) resulted in 100% specificity and 100% sensitivity for these samples. (Source: http://ous-research.no/home/institute/Homepage%20news/15353)